The Learning Framework Tree animates what learning looks like at St Joseph's School. We speak to the St Joseph's Leadership Team, Gavin Rick, Emma Ryan and Rebecca Burns, about why it was created, what it symbolises and how it guides school practices.
​St Joseph's has been and continues to be on the journey of discovering how to grow better learners who achieve and know how to get better at learning. The St Joseph's Leadership Team collaborated to further strategically plan for the continued implementation of a suite of essential principles and frameworks to be implemented across the entire school. We wanted to ensure that all we were doing was purposeful and was linked to our vision of learning. We also wanted a consistent way to articulate what learning looks like at St Joseph's and the why behind our new direction.
The first version was created on a piece of butcher's paper with colour–coded mapping pens. This exercise took many hours and drafts over many months. The final draft allowed the Leadership Team and staff to become very clear in the why we do what we do at St Joseph's and as an accountability that everyone was on the same page.
The many versions were shared with staff over time as well as to the many visitors we had from various schools and education systems so they too could understand the why and how behind the learning at our school. Over time it was decided that a more professional and permanent looking graphic would best serve our school and its community. ​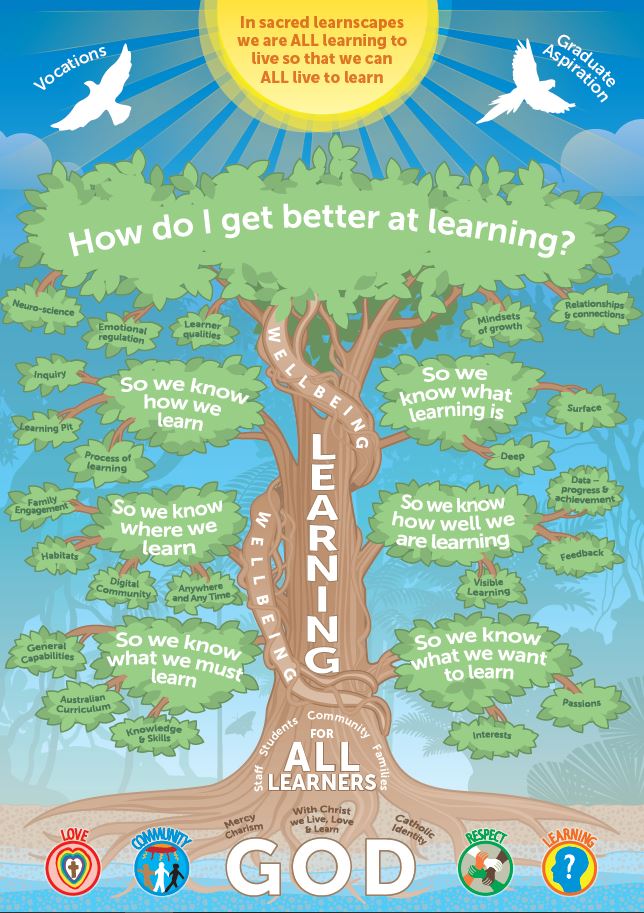 What is the symbolism and meaning?
​The sun represents the school's vision statement – it is what directs all we do and provides us with sustenance for the learning journey.
The two doves represent the vocations we hope students will aspire to have as well as the aspirations we hold for our graduates when they leave St Joseph's and move to secondary schooling – the set of learner skills and attitudes we want each learner to have and take into life.
The canopy houses our overarching aim for all learners – how do we get better at learning?
Under the canopy sits the five main whole of school principles we use at St Joseph's in order to achieve our vision:
​Neuroscience
Emotional Regulation
Learner Qualities
Mindsets of Growth
Relationships and Connections
Each branch under the canopy shows how we achieve our goal:
​So we know how to learn…
So we know where we learn…
So we know what we must learn…
So we know what learning is…
So we know how well we are learning…
So we know what we want to learn…
​The trunk is our system (Catholic Education and St Joseph's School) moral imperative; what is at our core – learning and wellbeing for ALL – This inspires all we do.
At the base of the tree we name our community inclusive of ALL learners: students, staff, families and the wider community (parish).
The roots are where we gain our strength and nourishment – at the core of what we do is who we are. We are a Catholic school established by the Mercy Sisters in 1927. Understanding we are all part of a bigger story is the beginning of our journey into recontextualising our Catholic identity. God is at our core. The roots contain our motto (With Christ We Live Love and Learn) and our way of Learning, Love, Community and Respect as Jesus did. They are entwined into everything we do.
The water symbolises the life-giving water represented in so much of the Christian tradition. It further represents the historical relationship of the school with water from its beginning, with the Sisters of Mercy teaching in gumboots to staff ferrying children over flood waters during pick up in Loeven Street. Issues with water initially triggered the planning and development of the new school as a place of Innovative Learning Environments, our Learning Habitats.
​The framework is a visual representation of what is happening in all of our habitats. Over a four-year period, staff co-authored belief statements about learners and learning, teaching and teachers. The tree is a culmination of all of these beliefs. The language from the framework can be heard throughout the school from the tuckshop, to the office and throughout the habitats. What is important about our tree is that it is not based on specific resources or programs which can date easily. Instead it is based on practices and frameworks that are adaptable to resources and programs as technology and the needs of learners evolve.
As with all living organisms, our tree will continue to grow and evolve as we continue the journey of learning.