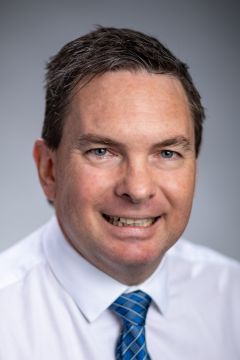 I am delighted to welcome you to our St Joseph's School website. Here you will find important information about what we uniquely offer our families that I hope motivates you to contact our friendly staff for further information, and to book a discovery tour.
In the spirit of reconciliation, I acknowledge the Traditional Custodians of the land on which St Joseph's exists and their connections to land, sea and community. We pay our respect to their Elders past and present and extend that respect to all Aboriginal and Torres Strait Islander peoples today.
I believe that good quality schooling as a part of life-long education enables young learners to be successful in life. Discovering the 'sweet spot' where schools and families work together in complementary ways is what I am driven to do so that our children can thrive.
I am a passionate educator with over 30 years of experience in teaching and leading Catholic schools across the diocese of Cairns. I was called early in my career to leadership in Catholic Education and have successfully guided several school communities. My leadership at St Joseph's has been a highlight of my career as we transformed our school into what it is today: a high performing school of choice with a reputation of care for each learner and a school that is future thinking and always striving to improve.
I lead St Joseph's School in ways to enable powerful partnerships with families to raise children who have the skills, knowledge and attitudes to make a difference in our world. I believe that our purpose is to provide our families with a Catholic education, guided by the life of Jesus Christ and inspired by the expression of the gospel message through the example of Catherine McAuley and the Mercy charism. I love that our school is open to families of all religions as we enter respectful dialogue with each other.
I believe in a holistic approach to education where our learners are guided to develop strong social and emotional skills and knowledge with a spiritual lens so that they can engage optimally in academics. Young people who are literate with a social conscience can contribute in powerful ways to improving our world. The development and formation of the whole child is at the heart of St Joseph's School.
I believe that our learners can get better at learning and so at St Joseph's I insist on the explicit teaching of children how to learn better as they become resilient, resourceful, reflective, and social learners. The future is exciting and unknown, and as knowledge continually changes, learning how to learn better is the one way we can ensure success for our children.
We have passionate and inspired staff at St Joseph's who have the children's best interests at heart, with a focus on developing solid relationships and connections with each child. We do this through developing positive learning cultures in our learning spaces and welcoming families into a partnership of wellbeing and learning.
The needs of our modern learners are different from when many parents including me, went to school. The world is different and with the power of the internet and digital resources, the way we engage students in their learning and the spaces we create for them to learn need to be different.
I am energised, enthusiastic and excited about the improvements we have made to the way we teach and to the provision of Innovative Learning Environments which we call 'Learning Habitats'. I know that what we have created best meets the needs of our students both for now and in the future. The recent construction of covered walkways which incorporate spaces to learn, gather and play have taken St Joseph's to the next level. We continue to enhance our outdoor learning and play spaces which is very exciting.
Therefore, the good quality Catholic Education we offer at St Joseph's, in addition to academic achievement, develops and enhances the spiritual dimension and well-being of each person, setting them apart.
Again, welcome to the St Joseph's School website. I encourage you to explore further to find out why St Joseph's is the right school for your child and family. I hope to meet you on a school discovery tour soon.
God's blessings
Gavin Rick
Principal