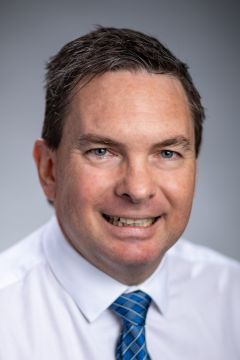 Good quality schooling as a part of life-long education, enables students to be open an to develop a growth mindset. A growth mindset is necessary for the development of healthy self-belief and enables learners to go places they otherwise may have thought not possible. The future is exciting and unknown and as knowledge continually changes, learning how to learn better is the only way we can ensure success for our children.
This essentially provides them with choices in life as to whom and what they want to be. A good quality Catholic Education therefore, develops and enhances the spiritual dimension and well-being of each person, potentially setting them apart. Development and formation of the whole child, is the core business of St Joseph's School.
With over 30 years of experience in Catholic Education, I am both proud and honoured to be the Principal of St Joseph's School. Founded in 1927 by the Sisters of Mercy, we at St Joseph's honour and respect our heritage and traditions by continually reflecting on how we live out the Mercy charism and the vision of Catherine McAuley, responsive to today's needs.
Our passionate and inspired staff have the best interests of the children at heart, with a focus on developing strong relationships and connections with each child. We do this through developing positive learning cultures in our learning habitats and welcoming families into a partnership of learning. We strive to provide experiences where the Catholic faith is explored and developed with a strong sense of joy, hope and optimism. We aim to dialogue with others whose religions and belief systems differ from the Catholic faith, in order to better understand ourselves and others. I believe that this, together with the development of resilience, is imperative to a child's success in life and is a major contributing factor to a child's overall development and well-being.
The needs of our students as modern learners are different from when many parents including myself, went to school. The world is different and with the power of the internet and digital environments, the way we engage students in their learning and the spaces we create for them to learn in need to be different. We want our children to be challenged and to use failure as a step in learning. I am energised, enthusiastic and excited about the recent improvements we have made to the way we teach and to our school, introducing Innovative Learning Environments which we call 'Learning Habitats'. I know that what we have created best meets the needs of our students both for now and the future.
I am a strong advocate for parental involvement in the school community and engagement in learning and as such expect that the parents of St Joseph's will want to take an active role in the education of their children in partnership with staff. Education begins at birth and is nurtured in the family and so our staff build on the foundations laid by parents in the home, where children first learn about themselves and others. Families play a vital role in supporting the learning processes as well as building a happy, healthy and resilient community.
I welcome you to the St Joseph's School website and encourage you to explore further to find out why St Joseph's is the right school for your child and family.
God's blessings
Gavin Rick
Principal